Sesame Street, the most influential children's program ever, is 50 years old this year.  The ground-breaking show will celebrate with a TV special to be aired on HBO and PBS this November* and the Sesame Street cast took on a year-long 10-city road trip in 2019.
Earlier this year, the intersection of West 63rd and Broadway in New York City was permanently re-named Sesame Street.
Launched in 1969, the mission of Sesame Workshop, the non-profit behind the television show, was to help kids grow smarter, stronger, and kinder.
Sesame Street was conceived during the era of the civil rights movement and the war on poverty.  Educators, advocacy groups, entertainers and television producers aimed to create an early learning program that not only prepared less advantaged children for school, but also advocated tolerance and inclusion.
50 years  150 countries  70 languages – and counting
YouTube's Sesame Street channel has surpassed 2.1 billion viewers, and had almost 1.5 million subscribers.   Sesame Workshop's television shows and spin-off versions now extend far beyond its shores.
150 countries stream these shows, in 70 different languages.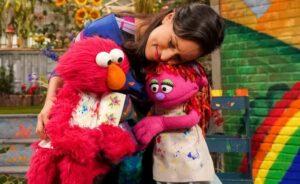 Though it has adapted to changing times and cultural norms, Sesame Street core message remains: difference is less important than friendship, feelings, and connection.
Through their story lines, vignettes and characters – both Muppet and human – the series has consistently tackled tough questions such as adoption, stigmatized illness such as HIV-positive, homelessness, color, or the 'differently abled.'  Sesame Street's use of role play using both Muppets and human actors is highly insightful as a tool to champion difference, diversity and inclusion.
sesame street: a pioneer in disability awareness
For advocates of and people with disabilities, Sesame Street has played a heroic role. The first character with a disability was a Jason Kingsley, introduced to the show in 1975.
"While parents today are still fighting for kids with Down syndrome to be represented, "Sesame Street" did it with ease years ago. … Jason Kingsley, a boy with Down syndrome, made his debut on the educational show when he was 15 months old. Emily Kingsley, Jason's mom and a writer for the show, used her experiences with her son to push for more inclusion as an activist for kids with disabilities. Jason can be seen on "Sesame Street" counting, spelling and hanging out with his Muppet friends in 55 episodes in the 1970s." wrote Taylor Pittman in the Huffington Post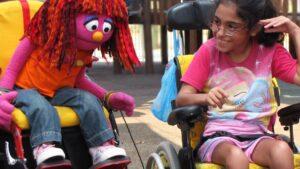 In 2013, Sesame Street formed a partnership with an Israeli disability-rights charity Beit Issie and its Friendship Park project. Friendship Park is a playground for children with and without disabilities in Israel. It was a real-life setting and perfect for the Israeli Sesame Street version, Rechov Sumsum, to talk about inclusiveness. Sesame Workshop created a Muppet called Sivan, who uses a wheelchair and plays with her friends in Friendship Park.
The French version, 5, Rue Sésame, includes the character, Griotte, also in a wheelchair.  Other international versions of the show have their own characters with disabilities, are disadvantaged or stigmatized in some way. Takalani Sesame, the South African version of Sesame Street  features Kami, who is HIV positive.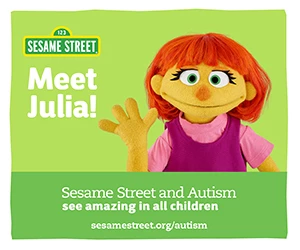 Julia, a red-headed, good-natured Muppet with autism is the latest character to join the Sesame Street pantheon.  As with many of Sesame Street's characters, she is welcomed as just the new girl, and the explanation that she has autism affects nothing in the children's attitude. They still enjoy playing with Julia, even though she may play a little differently, "We can play side-by-side like we do sometimes. There's lots of ways friends can play together!" Elmo says, as they play with their dolls.
Christine Ferraro, one of the show's writers, hopes the viewer, too, will see beyond Julia's disability.  "I would love her to not be 'Julia, the kid on 'Sesame Street who has autism,' I would like her to be just Julia."  By normalizing of people with disabilities through the Sesame Street characters such as Julia, neuro-typical children absorb the lessons of acceptance and tolerance.
Here's a list of characters by disabilities/special needs featured in Sesame Street or other Muppet-Henson productions over the last 50 years … with thanks to Muppet Fandom.
.